Celebrating Those Who Built Medicine Hat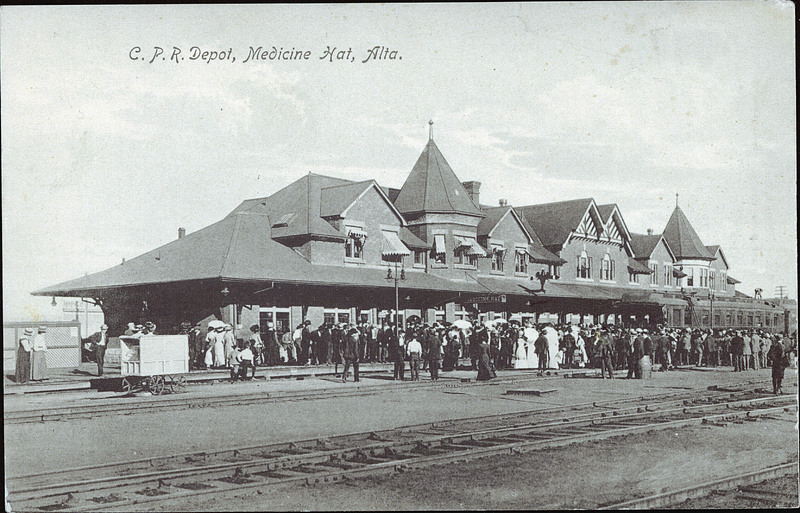 This article was originally posted on July 12, 2017 in the Medicine Hat News and we wanted to take the opportunity to share it once again in celebration of Seniors' Week and to honour those who paved the way before us. We celebrate our trailblazers and leaders within our community, as we take time this week to commemorate our seniors and to recognize the value in reflecting on our history and where we have come from….
In our 150th year of confederation, I could not help but explore the history of our Chamber of Commerce and our business network. Interestingly, the first chamber of commerce was established in 1599 in France, with the first North American chamber established in 1750 in Halifax. While our chamber hasn't been around for quite that long, we do have a remarkable history. Dating back to our establishment in May 1900, there have been significant contributions within our community, our province and our country, by our organization and the businesses that fought to move our community forward and who invested to make Medicine Hat what it is today.
Our community was born from an opportunity, rooted within business. Shortly after 1883, when the Canadian Pacific Railway reached Medicine Hat, an early tent town of railway workers, engineers and management was established. The railway station formed the spine from which the early commercial core radiated outwards. In 1898, Medicine Hat incorporated as a town and as a city in May 1906, emerging out of the District of Alberta, which was part of the North-West Territories at that time, until the province formed in 1905.
In 1911, Medicine Hat led Canada in the total percentage of building permits issued and the following year, the city experienced a 281 per cent increase in buildings permits. Rich in natural resources, the town was known in the early days as "the Pittsburgh of the West." Ranching, farming, natural resource extraction, clay industry, glass industry, greenhouses, and industrial manufacturing contributed to Medicine Hat's early and ongoing growth. Medicine Hat's economy experienced boom and bust years, with our booms in the early 1890s, 1909-1914, and late-1950s, significantly shaping Medicine Hat's future development. We were fortunate to have a diverse economy, natural gas resources and an advantageous tax structure to buffer the city's economy during the downward trends.
Behind Medicine Hat's growth and opportunity was a strong business community led by the Chamber's first president, E.J. Fewings, a local real estate salesman. One of their first campaigns as a Board of Trade (before they were established as a Chamber of Commerce around 1914) was to lead an aggressive campaign to sell real estate in the area. One of our past presidents, William Cousins remarked, "The natural advantages of Medicine Hat should be advertised and manufacturers should be induced to move here." With unheard of incentives, many businesses were established in Medicine Hat.
The Board of Trade focused on many opportunities for growth and development. War efforts were just one of the opportunities focused on to diversify and expand as a base for training and Prisoner of War camp. As the city grew, local transportation networks also became a focal point for the Chamber, with the local organization initiating the construction of Finlay Bridge, as well as advocating to have roads ready for the evolution of the automobile.
As the economy struggled, agriculture became more important and the Chamber of Commerce determined that it was time that this integral part of our economy was recognized as a business contributing to Medicine Hat.
Additionally, the Chamber of Commerce focused on key provincial transportation routes, taking up the cause in 1979 to get the Trans-Canada Highway twinned. The Chamber invited the minister of highways to come down from Edmonton, but was informed that there was no intention by the government to twin the highway.
Jim Horsman, MLA at the time, advised that in order to get this done, there would have to be numerous letters of support gathered. So the Medicine Hat Chamber started their campaign and garnered support from all Chambers along the Trans-Canada, including the Calgary Chamber of Commerce, resulting in more letters received by government on that topic than any other topic raised in government at that time. The result: within one years' time, the minister announced a 10-year program to twin the highway.
Today, Medicine Hat prides itself as one of the most economical places to live in Canada, with its unique city-owned gas utility and power generation plant being predominant factors. We also firmly believe that Medicine Hat would not look as it does now if it wasn't for the board of trade forming in 1900. It's been there through wars, drought, economic turmoil and continued to be supportive to the business community. Former mayor Ted Grimm stated, "The Chamber has an obligation to make representation on behalf of its people and its members", further commenting, "We never felt that the Chamber's voice should be ignored."
One interesting quote I came across was from Kent Smith, president of the Medicine Hat & District Chamber of Commerce in our 100th year as the 100th president who stated, "The more things change, the more things stay the same."
This still holds true today. We are experiencing some challenges in our economy and we need to diversify; we are focusing on the importance of our agriculture industry as a critical component of our business community; we are focused on government and regulatory change as it impacts business; and we need to ensure transportation networks are improved for the efficient movement of people and goods. Today, as we did in yesteryears, the Chamber continues to be the voice of business, taking pride in our connections, support and influence.
In our 150th year of confederation, we can take the opportunity to emphasize the importance of understanding, learning from and respecting our past, as it provides the foundation to build for the future. Past successes and future opportunity inspire optimism, initiative and the desire to move ahead.
A special thanks to the 2013 City of Medicine Hat Historic Resources document: https://www.medicinehat.ca/home/showdocument?id=5134 and the Medicine Hat & District Chamber of Commerce Centennial Commemorative video for the resources compiled in this column.