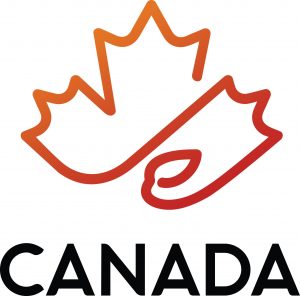 Government of Canada launches Canada Brand refresh for agriculture and agri-food products in international markets 
The updated Canada Brand program delivers on industry's need to respond to new market realities in today's digitally-driven marketplace. The strategy and tools are free to use, and were developed in collaboration with industry and provincial governments, through focus-testing, research, and consultation meetings. Export-ready companies can sign up for free for the Canada Brand program to gain access to the revamped marketing toolbox, optimized for today's digital-first business environment.  
The Alberta Government is Planning to Invest $2 Billion into Primary Health Care
"If passed, Budget 2023 would invest a record $2 billion – the highest investment ever – to improve primary health care. This would include funding for Primary Care Networks, payments to family doctors, funding to strengthen and modernize primary health care, and investments to help community-based physicians with information technology systems that will enhance continuity of care for patients." Read More.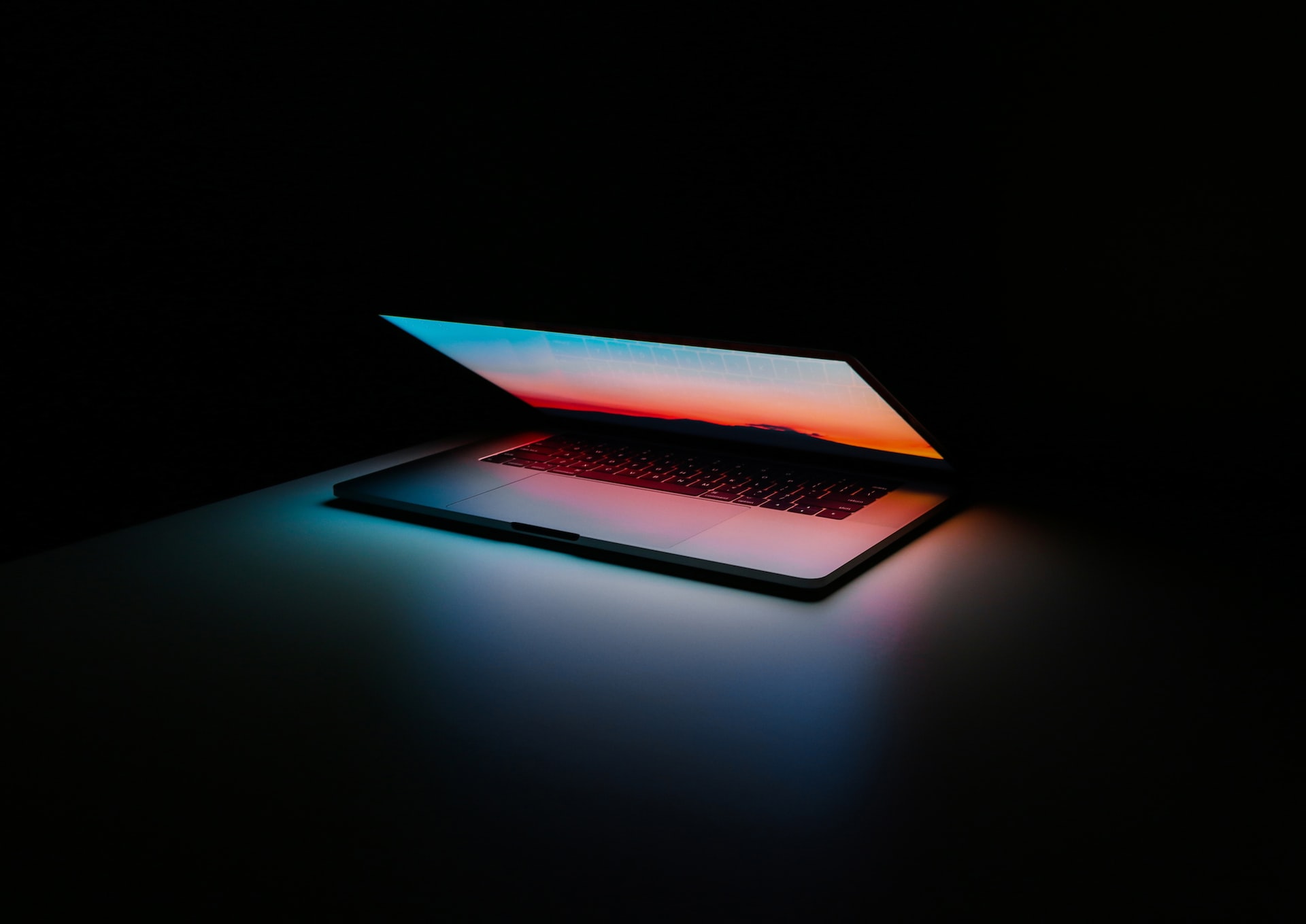 The Alberta Government plans to improve affordability for post-secondary students
As part of Budget 2023, the government plans to improve affordability for post-secondary students by:
Capping domestic tuition increases at two per cent across an institution in 2024-25 and for future academic years.
Reducing interest rates on student loans to the prime rate,  which will help reduce the cost of borrowing for both current and future Alberta student loan borrowers.
Doubling the student loan interest-free grace period from six months to 12 months to give students more time to find gainful employment without having to worry about student loan payments.
Increasing the thresholds for the Repayment Assistance Plan to $40,000 from $25,000 so more students can benefit from the program.
Addressing the Truck Driver Shortage Through a Redesign of Class 1 Driver Training
We have completed a new Provincial Policy for Class 1 Commercial Insurance. Given the importance of the trucking industry to Alberta's economy, the current shortage of drivers needs to be addressed as soon as possible. While the incentives available are helping to drive new students into the Mandatory Entry-Level Training (MELT) program, the number of motor vehicle accidents seen including commercial vehicles has caused an increase in insurance premiums for new Class 1 drivers. The MELT program needs to be redesigned to increase the safety of drivers exiting the program thereby giving insurers, and the broader public, confidence in the competence of drivers exiting the program.
Contact Alex for more questions on this Provincial Policy that was written.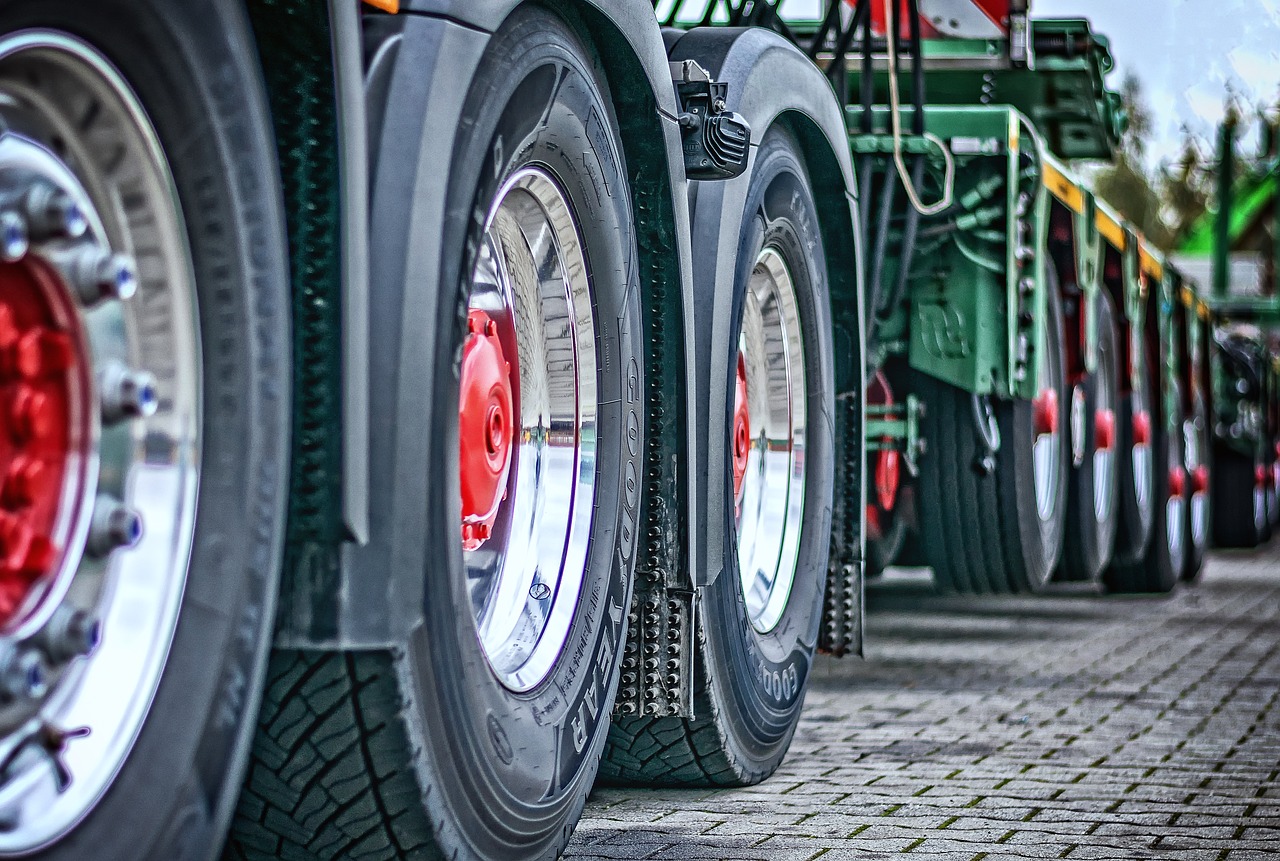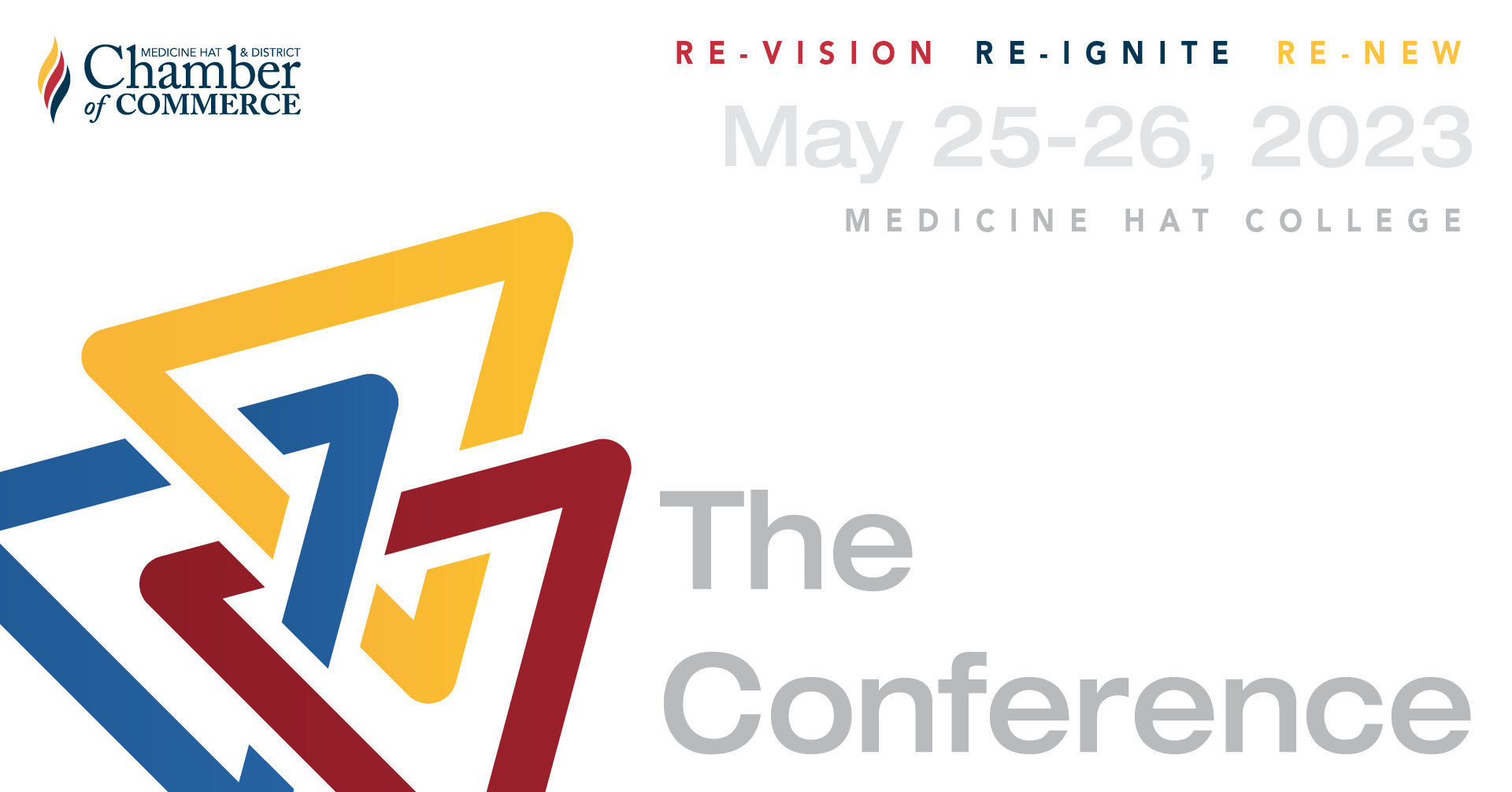 The Conference
The Medicine Hat & District Chamber of Commerce is bringing a large-scale professional development conference to Southern Alberta. Hosting a panel of speakers that present new concepts and ideas that Medicine Hat has never seen before. This event will not only be an amazing learning opportunity but also will attract business owners from all over the province. 'The Conference' is going to feature a wide variety of speakers including topics of interest such as economic development, operational strategies, marketing, leadership, and motivation. 'The Conference' is perfect for long-term business owners looking to grow on a wide scale.
This "new to" Medicine Hat Event looks to bridge the gap of learning opportunities within an ecosystem presented to professionals within and outside of the city. 'The Conference' will begin early on Thursday, May 25th, and extend into the afternoon of Friday, May 26th.
The Social Event of the Year is back!
Medicine Hat Chamber of Commerce is proud to present the 2023 Award Winning Alberta Food & Beverage Expo
The Alberta Food & Beverage Expo is excited to be working with the Chamber of Commerce this year to help support and grow the hospitality industry within Medicine Hat. This show brings positive economic impact to the community and creates awareness to the local businesses that we love to support.
Lastly, we are very excited to work with the Medicine Hat Firefighter Charity Association once again as our official charity sponsor.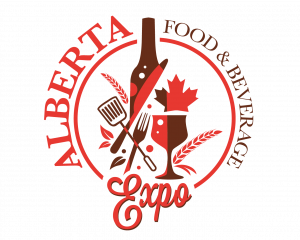 If you are interested in becoming an exhibitor Medicine Hat Chamber of Commerce has negotiated discount rates with the Alberta Food & Beverage Expo for their members. For more information call Brittany at 403-360-7734 or email info@eatdrinkalberta.com
If you would like to attend the social event of the year the event goes live Saturday February 25, 2023, at Medicine Hat Exhibition & Stampede Grounds, Doors open at 4:00pm.
Tickets on sale now: https://eatdrinkalberta.getfusiontickets.com/events/11260

Our Home & Leisure Tradeshow is back! March 3rd, 4th, & 5th of 2023
Booth registration is open until the end of this week! We will be running a FULL SHOW meaning we will be utilizing all 3 areas of the Cypress Centre as well as returning to our original date of the first weekend of March.
Chamber members receive -10% off their booth registration! Register Here. This year we have included amazing package add-ons for your booths like on site PSA Announcements, Social Media Packages, and even custom Drone videos of your booth to be used as promo for the weekend!
Looking to get involved in a different way? Perhaps sponsorship is the way to go!
In addition to exhibitors, we are looking for several sponsors. We have a lot of amazing sponsorship opportunities as it takes a big team to put on such a large-scale and well attended event. We would like to extend these offers out to our membership first, then to the public. By sponsoring you can receive amazing benefits such as, logo recognition on event marketing, at the event, ads in our show guides, complimentary show tickets, and the opportunity to hang your own banners in the show, and in our exclusive Exhibitor Lounge. View Sponsorship Opportunities!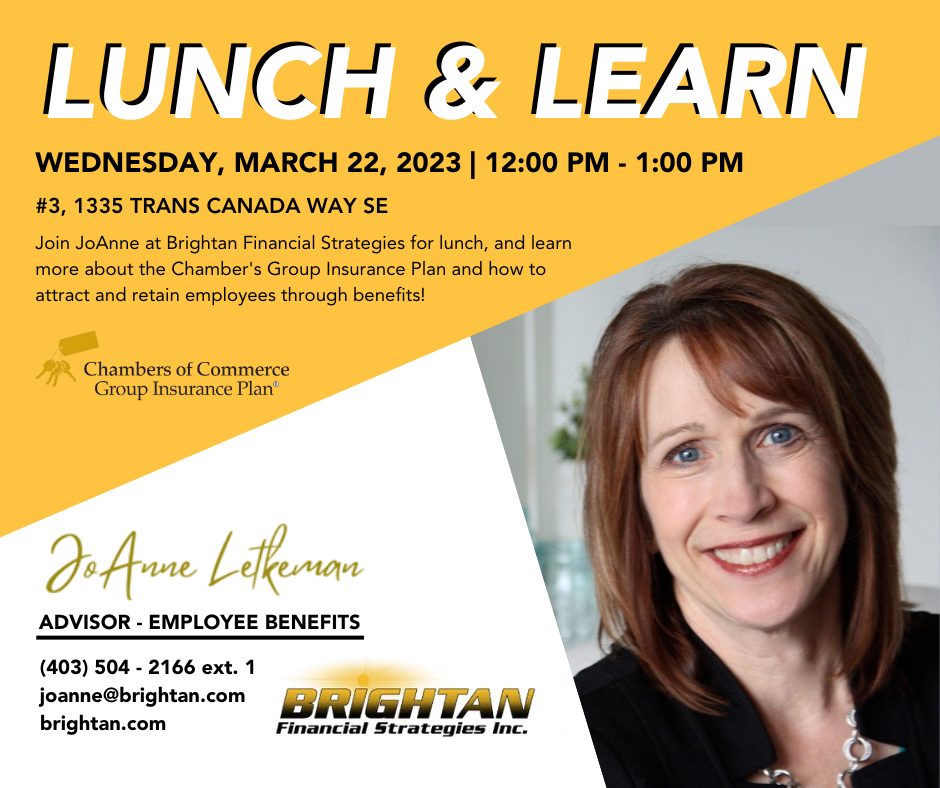 Chamber Group Insurance Plan Lunch and Learn
Don't miss out…..Register Here
Chambers Plan Lunch and Learn Event will be held at Brightan Financial Strategies Inc - #3, 1335 Trans Canada Way SE, Wednesday, March 22, 2023, from 12:00-1:00 pm.
Is your small or medium-sized business currently looking into a Group Health & Dental Benefits program? Or perhaps you are already enrolled in one but would like to research all of your options?
Are you experiencing rate fluctuations with your current carrier?  If so, then this session is for you!
Come enjoy lunch with us and learn about the Chambers Employee Plan - the #1 Plan in Canada for Small Business.
We'll have you in and out in an hour! Limited seating so register early!
Hosted by: JoAnne Letkeman, Advisor, Brightan Financial Strategies Inc.
Fuelling the Business Community
Exhibitor Spotlight
Mutha Earth offers a mobile cafe available for booking. The Cafe is considered "a whole mood" and offers Superfood Smoothies, Coffee + Lattes, Herbal Elixirs, Salad Bowls, Sandwiches, and more! The trailer is Eco-friendly and will be located in the Food Alley for this year's Tradeshow, be sure to visit them over the March 3-5 weekend, see you there!
Serenia Life Financial offers guidance and insurance products that help protect your loved ones for life. We are pleased to host Serenia in Booth #181 for this year's Tradeshow, be sure to visit them over the March 3-5 weekend, see you there!
We are excited to see you all out at this year's Tradeshow! We want to continue to improve our service to our community and we welcome your ideas and input on future shows. Connect with us and share your feedback so we can continue to expand our shows and produce outstanding events that resonate with you, our consumer.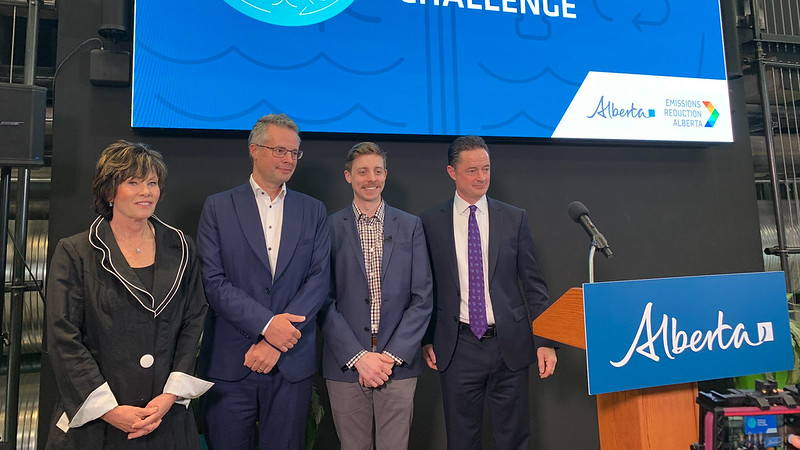 TIER program is funding innovative solutions to extend the lifecycle of products like rubber tires, plastics and food waste 
Up to $58 million from the TIER fund is being delivered through Emissions Reduction Alberta (ERA) to help projects participating in the Circular Economy Challenge progress through various stages of development.  In a circular economy, a product's lifecycle is extended through reuse, recycling, upcycling, resource recovery, and sustainable design. Proposed technology solutions supported by the Circular Economy Challenge include recycling asphalt from roof shingles, capturing and storing carbon in concrete, and a first-in-Canada project that turns inedible eggs into a powder to feed pets and livestock. Find out more.