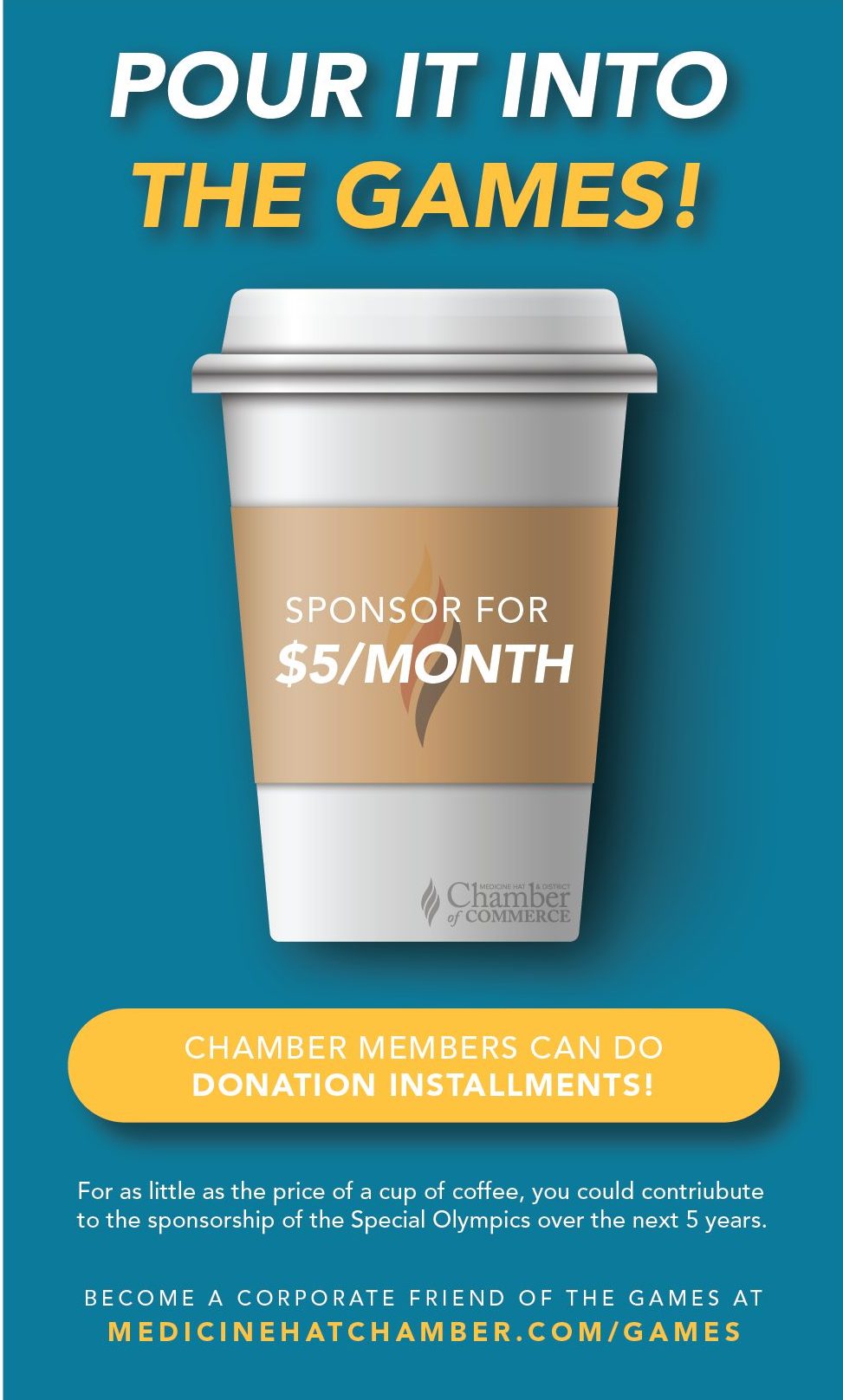 CHAMBER OF COMMERCE MEMBERS JOIN FORCES WITH THE MEDICINE HAT 2026 SPECIAL OLYMPICS SUMMER GAMES
(Medicine Hat) Members of the Medicine Hat Chamber of Commerce now have a special opportunity to contribute to the fundraising efforts of the 2026 Special Olympics Summer Games, which will be held in Medicine Hat from August 9th to 16th that year.
Chamber members can now become Corporate Friends of the Games by making a donation to the Games along with their regular membership fees over the next five years using. "For as little as the price of a cup of coffee each month," says the Chamber's promotion, "you could contribute to the Sponsorship of the Special Olympics."
"Our chamber recognizes the importance of breaking down barriers and building workplaces and communities that are inclusive," explained Chamber President Scott Lehr. "As such, we are pleased to support our community in its goal to host this event and support the mission of Special Olympics Canada to enrich the lives of Canadians with intellectual disabilities and allowing communities to band together to change attitudes and support athletes."
Ted Rodych, Chair of the Medicine Hat Alberta Games Society who oversee the Games initiative said, "We are grateful that the Chamber is putting their considerable support behind this wonderful opportunity for Medicine Hat. It is the first time in 34 years that this national event will be in Alberta. We hope everyone in Medicine Hat will find some way to be involved in hosting Canada at the 2026 Games."
"We know that the greatest winners are not found on top of podiums but in the lasting effect that is left in the hearts and minds of athletes, families, and communities," added Lehr. "The Special Olympics movement is more than just a celebration of sport – it is a celebration of spirit."
Please direct all media inquiries to:
Dr. Ken Sauer, Friends of the Games
2026 Medicine Hat Special Olympics Canada Summer Games
(403) 526-6259
Scott Lehr, President
c/o Medicine Hat & District Chamber of Commerce
(403) 527-5214 ext.225
The Chamber of Commerce is a grassroots not-for-profit business network built by business for business. For more than 120 years, the Chamber has been a champion for business and an essential source of information and solutions, helping build the businesses that support our families and our communities. The Chamber exists to serve the needs of every business in our region, strengthening our community as a catalyst for growth, uniting business, driving leadership and fuelling success through our connections, support and influence.
The Chamber represents over 900 businesses in our region and is aligned with both the Alberta Chambers of Commerce (ACC), which represents over 24,000 businesses and the Canadian Chambers of Commerce (CCC), which represents over 200,000 businesses. With the largest and most influential business organizations locally, provincially and federally, the Chamber network is the most unified, valued and influential business network in Canada and works together to shape policy and programs that will make a difference to businesses in our region.