Why Be A Part of the Chamber?
Investing in us is an investment in our community.
Your membership dollars stay in our community and are used to support our local businesses. We champion local first initiatives to make sure that our local business thrive.
Raise your reputation.
Show your credibility with the use of our web badge, window decal, certificate and vehicle decal. We refer from our database of members, making sure you receive those connections to people looking for your product or service.
Health and Dental Benefits.
Start saving with 100s of businesses in Medicine Hat and more than 30,000 businesses across Canada with one of the most flexible Health and Dental plans exclusive to Chamber members.
Have more questions about how we can help?
Don't just take our word for it, hear what our members have to say
In my 20 plus years in business in Medicine Hat there have been many organizations that I have been exposed to and been a part of. The Chamber is so much more than just an advocate for business. The value that they provide to a member is immeasurable. Taking advantage of the programs and discounts in just a few areas pays for the investment in the membership. Join. You'll be glad you did.

-Ryan Jackson, Principal of RAMECO Consulting Group
Being a member of the Chamber of Commerce has provided Auto-Star with many networking opportunities and recognition. We have been nominated for many Chamber awards over the last several years, and have been fortunate enough to win on multiple occasions.  This has a boost to our marketing and visibility locally and beyond, and we have been very proud of this.  We really appreciate the fact that we get a chance to meet other like-minded businesses through the Chamber, and we have a voice to provide feedback on business matters.
-Hugh Arthur, CEO & Co-founder of Auto-Star Compusystems
Our level of association with the Chamber has varied over the years, but we have always been a strong supporter. The main benefit has been that we are privileged to be part of a dedicated group of professionals constantly working towards making Medicine Hat a viable business community.
-Melanie Beals, former Events & Entertainment Manager with the Medicine Hat Lodge
The Chamber provides a voice for businesses in Medicine Hat. As a member of the downtown business community, we have benefited from the advocacy role the Chamber has played. Networking and collaborating with members has also been beneficial in our growth and development. Educating ourselves in business, marketing and economic trends is an important part of our professional development as business owners and employers. The Chamber of Commerce provides many opportunities for us to continue to do so.
- Dr. Shann Snedden, River Dental
Most business owners and managers are extremely busy people.  We don't always have the time we would like to devote to addressing business issues and concerns affecting our City and surrounding area.  The Chamber partners with local businesses to assist us all in creating a strong, pro-business voice that ensures local businesses (and therefore, the local economy) are given the attention they merit.
-Simon Hersey, Smith & Hersey Law Firm
"The Chamber pushes to advocate on related issues and shed light on topics of concern, bringing together the parties involved and come to an amicable resolution for all and promote business in Medicine Hat and area. Always interested and equipped to meet topics and issues head on, that affect the betterment and wellbeing of its members, addressing issues that have a direct relationship to the Chambers vision, mission, values, goals, policies and priorities. I feel the Chambers voice is a valued asset to the community for all and encourage all to get involved and support your local Chamber of Commerce."

- G.W. Buck Smith
"I cannot begin to tell you the immense service that you have done for me personally and to Bee-Clean. We have found a direct connection to the Medicine Hat Business Community through the chamber. Not to mention how accepted we felt since the very beginning. Thank you for everything  you have done for us."
- Francisco Amaya, Bee-Clean Building Maintenance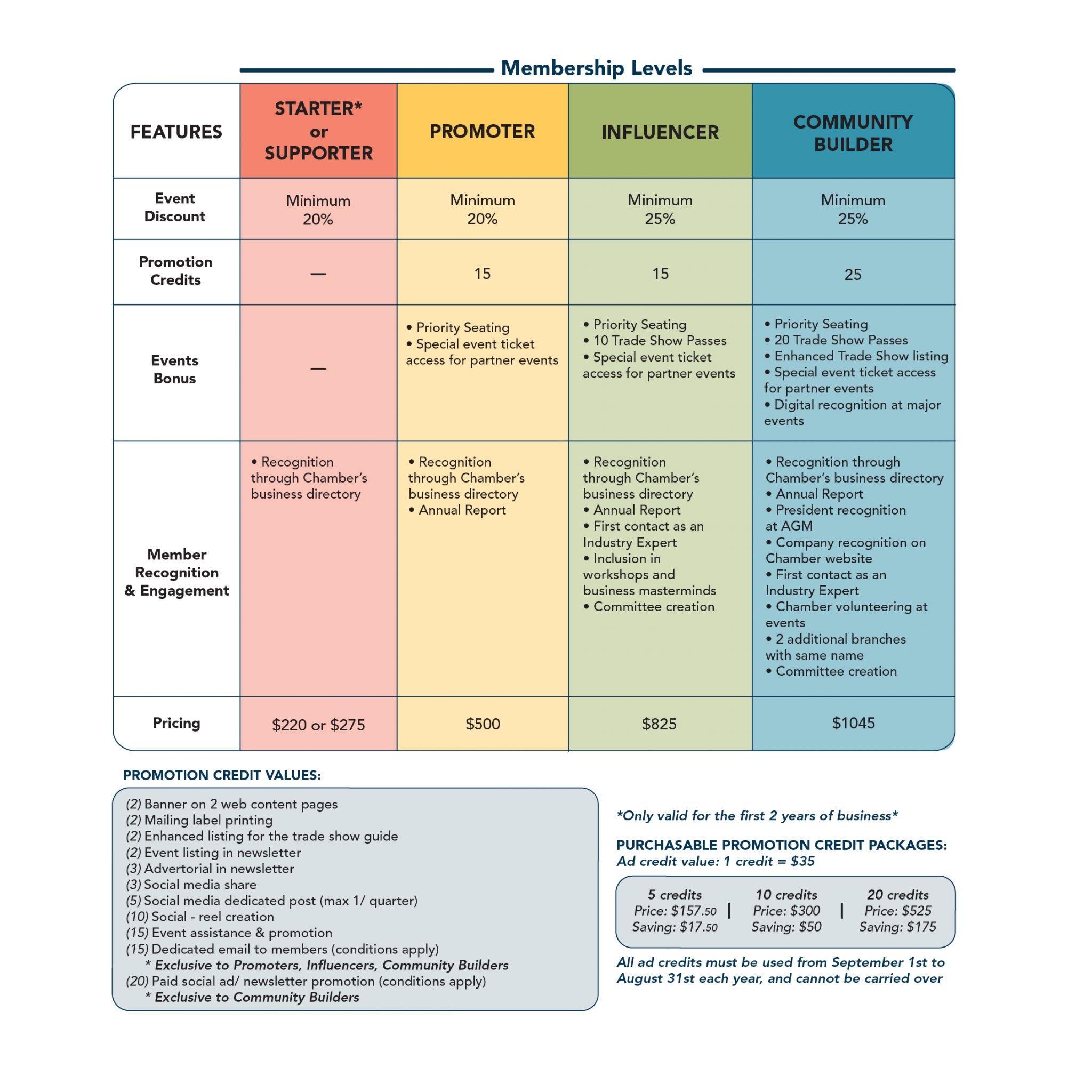 Associate Memberships
A 50% discount will be given on a membership for those who meet one or more of the following criterial:
1) Secondary Branch - an organization that has multiple branches whereby one branch pays full membership and secondary branches as an associate.
2) Subsequent Business - for owners with multiple businesses whereby one business already pays full membership (owner must have at least 50% ownership in both).
3) Large Corporations - professionals who are part of a large private or public corporation that has already taken out a Chamber member (ie. Realtors).
4) Leasee - for business who lease property space in a 50+ multi-business retail facility whose property owner is the primary lessor who pays full membership.
5) MHC Student - students enrolled at MHC as an active full time student gain the 50% discount off their primary membership.
*All primary members must have paid in full prior to the associate member being granted the 50% discount*