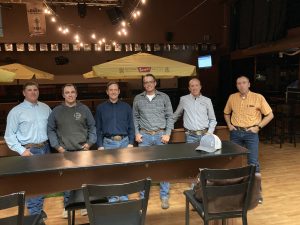 We had the opportunity to meet with the Alberta Beef Producers Zone 1 Directors on September 23rd and had some great conversations, both learning about the questions and concerns from producers, as well as highlighting key points of what the Chamber has been working on for the agriculture Industry.
Nichole Neubauer also shared the work within her role on Results Driven Agriculture Research (RDAR) so that Alberta's agriculture and food sectors achieve their full potential through producer-led, strategic investments in research and innovation. In addition, Nichole provided an update on the Champions for Agriculture industry advisory committee that she serves on and the actions needed to work towards building public trust and enhancing agriculture education and possible next steps to ensure the committee has the support necessary to achieve its objectives. If that wasn't enough, Nichole is also working on a Farm @ School project that will further enhance education and the connection to where our food comes from, building a pilot program for schools in partnership with the Prairie Rose School District.
It was amazing to see how effective we can be when we put our heads together and talk about what we can do collectively.
The Chamber of Commerce, represented by Scott Lehr from Short Grass Ranches and 2nd Vice President with the Chamber and Lisa Kowalchuk, Executive Director highlighted some of the work being done on behalf of the industry through the Chamber. This included having our local policies adopted by the Alberta Chambers of Commerce this September, including the need to integrate agriculture into education, recommendations to improve risk management programs and a call to enhance marketing efforts for agriculture products both domestically and internationally. This is in addition to the policies the Chamber has submitted to the Canadian Chamber of Commerce for adoption later in October. The Chamber has also built out its advocacy information to specifically highlight policies in key priority areas, including agriculture, with 11 active policies on the books that the Chamber is lobbying for on behalf of our agriculture industry to help solve some pain points and look at promotion and awareness of the industry. In addition to bringing forward policies to the provincial and national agenda, the Chamber was also able to celebrate the achievement of recent changes to the meat inspection regulation, changes to employment standards and a commitment to reducing red tape that will benefit the industry.
In addition to the advocacy work, the Chamber also built out a page during COVID-19 to focus on agriculture supports in addition to the COVID-19 information page and business resources that were built to support the many businesses in our region.
We have been able to assist our agriculture industry by pushing the agenda on Agriculture Education, drafting recommendations for Government and meeting with the Minister of Education, the Minister of Agriculture and Forestry and Deputy Ministers. We have also been able to gain the support and endorsement of our position on agriculture education by the Alberta Beef Producers, the Canadian Cattlemen's and the Alberta Chambers of Commerce and are working with other industry groups and Chambers across the province and across Canada to further this message.
We are also working on access to labour and know this is an ongoing concern and challenge, but we know more can be done with input from industry and while there have been tools released by the Government during COVID-19, there is more that can be done to make these connections and build awareness of the job opportunities within agriculture. We've also been active in the dialogue on irrigation, holding stakeholder presentations and conversations and attending an irrigation roundtable with Minister Dreeshen this past summer. We have continued to work on the trade, taxation and competitiveness agenda through the Canadian Chamber of Commerce, with our active participation in the Canadian Chamber Agriculture and Agri-food Committee.
Partnerships have been key in building our supports for agriculture, not only in advocacy, but also awareness and our broader connections. Earlier this year, a partnership with the Calgary Chamber provided our members with an all expense paid trip to Canada's Agriculture Summit and participants had the opportunity to make some valuable connections. As such, we continue to seek opportunities like this that work to achieve our common goals.
We know advocacy, agriculture education and building public trust are amongst the top priorities for this industry, but we also compliment this with a health and dental plan that works for producers, in addition to facilitating recognition and promotion for our members. This is in addition to facilitating roundtables and working groups and making sure we're getting the information needed to those most impacted. We scour municipal, provincial and federal government news feeds and consolidate the information not only for business, but information specific to agriculture, so that we're saving time and resources to get industry the information they want and need.
Agriculture has always kept our economy stable and plays a vitally important role across our country and around the globe. The 2016 Census of Agriculture found less than 1% of Canadians are farm operators, yet all Canadians participate in the agri-food sector when they go grocery shopping and make food choices. Based on 2017 annual estimates, 75,100 Albertans were employed in agri-food industries, representing 3.3 per cent of the total provincial workforce with Alberta having one of the world's most productive agricultural economies and a total farm area of 50.3 million acres. We know the work we are doing is important to our industry and the numbers show the need for this support. We are proud of our agriculture industry and what they contribute to this region and we continue to work with them on the challenges they face and new issues that surface so that they have the supports needed to keep a strong, stable, sustainable and competitive industry.
Thank you to the Alberta Beef Producers and Zone 1 for your commitment to the Chamber network and the ongoing collaboration and conversations that will move the needle on issues that impact our region and your industry.